Manage your account
like never before!




Known Issues
These are the current trending SmartHub support topics:
There are no known issues at this time.
Announcements
What changes can you expect when we launch SmartHub?
New account number: Use your new account number to register for SmartHub. You can find your new account number on your new bill. To look up the number online, you will need your Customer Number, which you can find on your last bill. More details can be found below in the "Getting Started" section.

Re-register for your online account: We recently had a system upgrade that requires all of our members who have online accounts to register again. The new system greatly increases the amount of information you have access to with regard to your account, including your energy daily, and hourly energy usage

Update your online payment options: Once you register for your online account, you will need to update your payment options.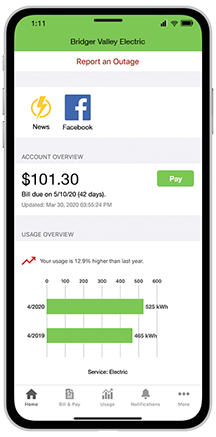 What is SmartHub?
On the go and in control. Now you can manage your account like never before!
SmartHub has several features that make managing your account as easy as possible. Whether through the web, or your smartphone or tablet (Android or iOS), you'll be able to pay your bill, view your usage, contact customer service and get the latest news.
As soon as you log in, you'll be able to view your billing history and make a payment with just a couple of clicks. You'll be able to see your current bill, along with bills from the previous month or even the previous seasons, if you want to compare costs. Not only will you see your billing history, but you'll be able to view your actual use. You can see how your use is trending over time, which will allow you to take steps to lower your bill.
Making payments through SmartHub is fast and easy. The first time you make a payment either through the web or through your mobile device, you'll be able to securely store your payment information for future transactions. The next time you need to pay your bill, it will only take a couple of clicks.
You'll also be able to see important notices with SmartHub. You'll be able to select how you want to be notified about your bill, including email and text messaging. You'll even be able to set usage thresholds so that you'll know when you're using more than you'd like which will help you keep your electricity bill as low as possible.
Reporting a service issue is a snap with the SmartHub mobile app. There's no need to call the office, just let us know about the issue with a few clicks. You can also contact us for customer service requests or with any questions you may have. You can now contact us at any time from anywhere.
Getting Started with SmartHub is as Easy as 1-2-3!
As you work down this page, you'll complete the following checklist and be on your way to managing your account like never before! Make payments, report service interruptions, monitor usage, and save the planet.
Register your SmartHub account
Locate your new account number (instructions below) and get registered!
Activate the features You Want
This is your opportunity to give features like paperless billing and Auto Pay a try!
Setting Up SmartHub: Frequently Asked Questions (FAQs)
What is the difference between the SmartHub web portal and mobile app?
Both platforms are part of BVEA's online account management system for members.
The website has additional functionality that allows members to manage notifications, update their stored payment methods, and change their personal information.
Both the web version and mobile app allow members to securely access their account information, view bills and payment history, make payments, view energy use, and report outages.
The free, secure mobile app is available to download and install on mobile devices and tablets.
Is the mobile app secure?
Where can I find my new account number?
How do I sign up for SmartHub? (Web)
How do I download the app and sign up for SmartHub? (Mobile)
I'm being prompted to sign up for paperless billing when I log in. Do I have to sign up or re-register for it?
How do I set up my mobile and email for notifications?
How do I sign up for, update or delete billing, outage, and usage notifications?
What is Auto Pay and do I need to sign up for it?
How do I sign up for Auto Pay?
How do I set up stored payment methods, such as a credit card?
Register Your Account (Web)
Watch how easy it is to register your SmartHub account through our web portal.
Download & Register (Mobile)
Watch how easy it is to download our app and register your SmartHub account.
Other Frequently Asked Questions (FAQs)
Do I have to use SmartHub to pay my bill?
No. You can take advantage of all the features of SmartHub or you can continue to pay your bill as you currently do.
Click here to get more information.
Can I manage and make payments on multiple accounts with SmartHub?
How can I report an outage or submit an inquiry or service request?
Why did you make all these changes? Who is paying for all these changes?
How can I view my energy use?
You can view your energy use on the website and app.
On the website:
● Click My Usage
● Select My Usage
● then select Usage Explorer
On the app:
● Select the Energy Use icon to view your energy use.
How current is the account information in the app or website?
How do I avoid being scammed when asked about SmartHub or my account number?
What if I have a question that is not listed here?